Calendar

Back
Robot Multiple Control Programmable Unit (ROBOT MCPU)

Total Solution of Automation in Water Supply Scheme.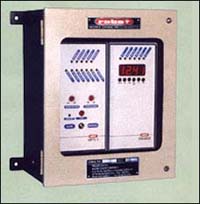 This is a microcontroller based unit and the main feature of this unit is to start motor automatically as per the ON & OFF programs adjusted in the unit. This unit also protects motor from abnormal conditions like single phasing, unbalance three phase supply, absolute under and over voltage, under load ( dry run ) and overload, Wrong phase sequence and has additional protection of Low water level. Apart from automatic restart it compensates the loss of time due to abnormality or power failure, till resumption of next programe. It has got provision for setting under and over voltage as well as load. All conditions are displayed Through LED's on front panel. This unit is suitable for all type of push button starters.
Utility of ROBOT Multiple Control Programmable Unit in Rural Water Supply Scheme.
Scheme located away from the village
Schemes, which works for a long duration in night hours
Frequent failure of Power Supply
Non-availability of approach road to scheme during rainy seasons or any other reasons
Non-availability of Technical personnel as pump operator in rural sector.
Back
---
2009 - 22, All rights reserved, Bamo Electronics, Pune, India.
Maintained by Infotools® , Pune
| *Last updated on : 22 October, 2012 | Add this Website to favorites !