Calendar

Back
Robot Streetlight Control Panel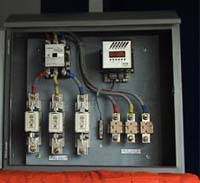 Robot Street Light Control Panel operates sodium vapor lamps as per sunset & sunrise timings. The control panel consists of Robot sunset to sunrise timeswitch, suitable three pole switching device & short circuit protection through suitable fuse units. All components are mounted in M.S. Enclosure having pole mounting arrangement. Enclosure is fabricated for outdoor installation. Off peak hour switching of alternate lamps are also available.
---
2009 - 22, All rights reserved, Bamo Electronics, Pune, India.
Maintained by Infotools® , Pune
| *Last updated on : 22 October, 2012 | Add this Website to favorites !